Amallink Verified Company

100%

authentic info

100%

quality guaranteed

100%

professional service
Fangyuan Group
Main Products:

Hoisting Machine,Piling Machine,Road Construction Machine,Concrete Machines and The Special Vehicles
Fangyuan 18th Anniversary and Product Order Meeting Held Ceremoniously
May 26th, 2011 is 18th anniversary of Fangyuan Group establishment and 41th anniversary of factory establishment and Fanyuan Group takes the chance to hold the product exhibition. Mr. Gao Xiu, Chairman of board of directors, Mr. He Yongrong, General Manager, Mr. Gao Weihua and Liu Zhong, Deputy General Manager and key customer representatives, and all staff of the sales company attended the Product Order Meeting. With high reliability and safety, Fangyuan products gain high praise from the customers. www.21-sun.com makes live broadcast and special report for the product order meeting.
Fangyuan 18th Anniversary and Product Order Meeting Held Ceremoniously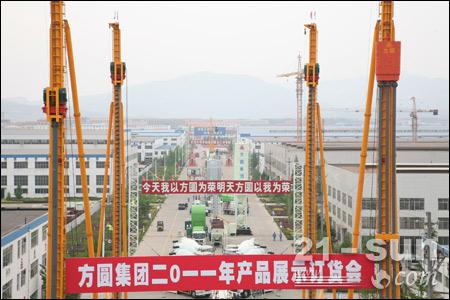 Fangyuan 18th Anniversary and Product Order Meeting
On the meeting, attendances visit the latest products of ready-packaged concrete mixing plant, concrete pump, trailer pump, stabilizing soil mixing plant, concrete mixing truck, and garbage compression station developed by Fangyuan Group. Fangyuan Group has been participating in the construction of railway, highway, high building, nuclear power, water conservancy, dock, national defense and coal in recent years. With the excellent performance, reliable product quality and strict aftersales service, the products are favored by the customers, especially HZS180—AP1000 concrete mixing plant for nuclear power which attends the concreting of Haiyang Nuclear Power Station FCD. The machine ranks Top 50 China Construction Machinery in 2010. Meanwhile, with the perfect design, reasonable layout, reliable performance and simple installation, HZS120D concrete mixing plant also gains the attention from the customers, and is exported to the overseas.